Just Between Us
Just Between Us is a Women's Consignment Clothing store in Northwest Austin. We offer affordable, fashionable women's consignment clothing and accessories! Just Between Us has been a part of Austin, TX for 39 years! In fact, we're one of the longest-standing clothing consignment stores in the entire area. Why not refresh your wardrobe without spending a fortune? Where you bought the clothes can be just between us : )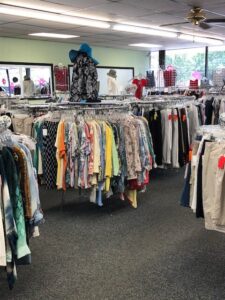 Why pay retail when you can buy resale? We agree! It's fun to save money and we have fun helping you do it. In fact, we pride ourselves on offering Austin's utmost friendly resale consignment thrift shopping experience. We love our customers and consignors. Many of our regular customers are repeat consignors. All of us enjoy the "retail therapy" aspect of our shop. It's sometimes the best part of shopping. Well, that AND getting incredible bargains!
New things are constantly coming in to keep our consignment clothing inventory fresh. This is done by appointment only via phone. That way, you know exactly what we're taking at any given time/season of the year. We do not take walk-ins.
Click here to check and see our latest sale:
Come shop with us today!